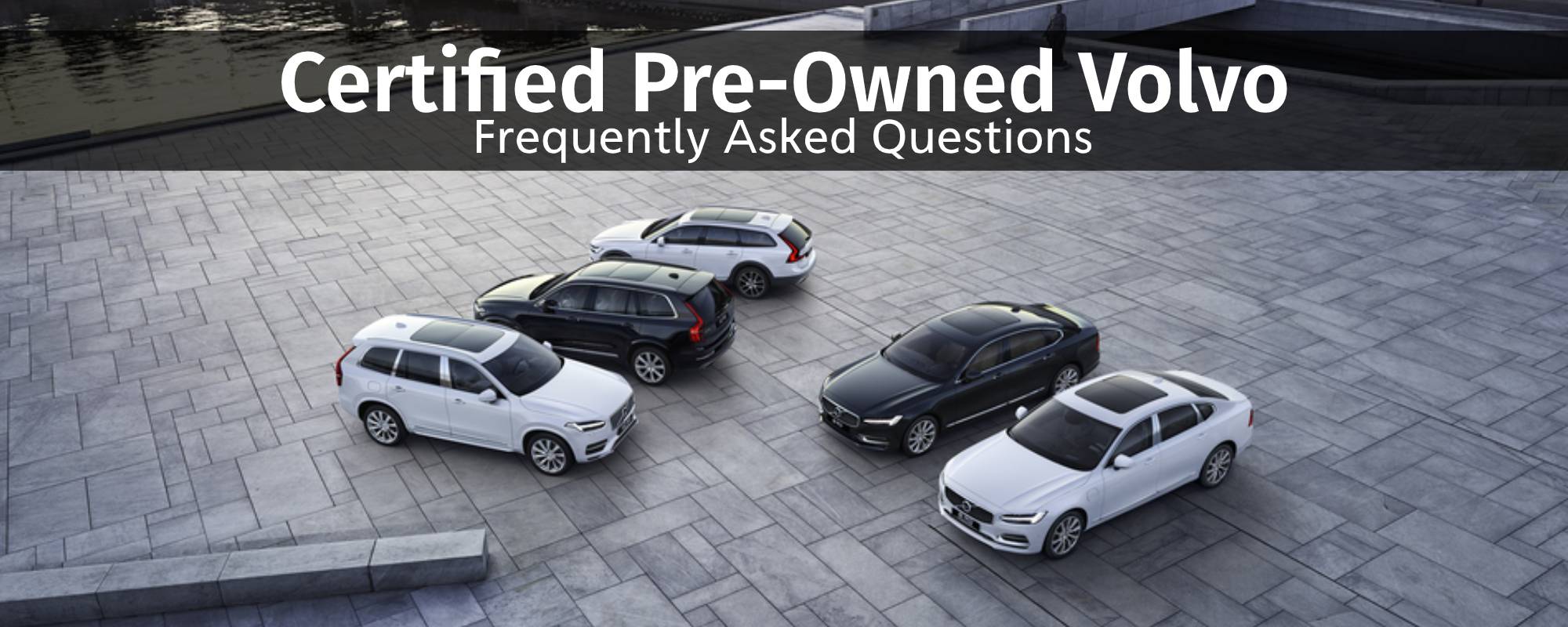 Frequently Asked Questions for Volvo Certified Pre-Owned Customers
At Crippen Volvo Cars, we are proud to offer a wide range of Certified Pre-Owned Volvos, but drivers new to the CPO program often have a lot of questions. We invite all our customers to come down to our showroom in Lansing to discuss any questions with a salesperson at any time, but if you have a question that needs to be answered now you may find the answer in our FAQs below.
What Does a "Certified Pre-Owned" Volvo Mean?
A Certified Pre-Owned (CPO) Volvo is a vehicle that has passed a rigorous test designed by Volvo to certify that a used car is held up to the high standards demanded by Volvo. Any car that has been certified is offered with a full warranty and even new parts in some cases. All Certified Pre-Owned Volvos at our East Lansing area location have passed the Volvo test with a score of 170 or higher and have less than 80,000 miles on it. In addition, all Certified Volvos in the Mason, MI area come with a full CARFAX® report. 
What Are the Benefits of Owning a Certified Pre-Owned Volvo?
The benefit of owning a Certified Pre-Owned Volvo is the amazing warranty that Volvo is known for without the high price of a new car. All Certified Pre-Owned Volvos come with a five-year warranty, roadside assistance, a full CARFAX®, and Volvo genuine service. Plus, the warranty is transferable, so if you decide to sell your Volvo down the line you can offer the remaining warranty to the new owner, which allows you to demand a much higher asking price compared to other used cars.
What Does Volvo Certified Pre-Owned Cover?
Does the five-year warranty grab your attention? It should because it covers a wide variety of components on your car including exterior and interior features as well as what's under your hood. Not only does it cover the powertrain, but it also includes heating, steering, the ABS system, and air conditioning repair. Plus, as part of the CPO warranty, Volvo offers two years of 24/7 roadside assistance so you never have to worry about being stranded on the side of the road. 
How Much Does A Volvo CPO Warranty Cost?
If you purchase a Certified Pre-Owned Volvo, the warranty comes with the vehicle purchase. The warranty adds value to your purchase but does not include any extra costs for the buyer. All eligible vehicles offer a five-year, unlimited mileage warranty with a $0 deductible so long as repair work covered under the CPO is performed at a Volvodealership, such as our Dewitt area service center .
Is a Volvo CPO Vehicle Available at a Non-Volvo Dealer?
Generally, the answer to this question is no, but there are a few slight exceptions. In order to buy a Volvo Certified Pre-Owned vehicle you will need to go to a Volvo dealer. However, Volvo's CPO program is transferable within the five following an original sale. Therefore, if a car owner bought a Certified Pre-Owned vehicle and then sold it to an independent dealer the remaining time left on the warranty would go with the car. Thus, while you cannot buy a car with the full five-year warranty, it is possible to purchase a CPO with time left on its warranty from an independent dealer.
What if a Volvo CPO Vehicle Needs Roadside Assistance?
If you need roadside assistance at any point all you have to do is call Volvo Roadside Assistance at 1-800-638-6586 and a representative will arrange aid dependent on your situation. However, you must still be within your five-year warranty. All CPO vehicles after the year 2015 also come with a one-year free subscription to Volvo on Call, an innovative app that allows you to quickly access roadside assistance with the click of a button.
Contact Crippen Volvo Cars To Find Your CPO Volvo
Interested in getting into a CPO Volvo in the Charlotte, MI area? Call our sales team today to set up an appointment for a test drive.