Making your life easier
Services, navigation and audio
The Latest Volvo Technology
Finding a vehicle that has everything you need for a well-connected ride is easy to find when you shop at Crippen Volvo.  We have a great selection of new Volvo vehicles that will impress you from the inside out with their advanced technologies. Experience what life could be like in a new Volvo with the latest features to enjoy as you drive to your desired destination.
Whether you are interested in a sedan or an SUV, you can find a Volvo with all the latest advancements in our lineup. All our models have an entertainment system and an information system to keep you updated on your Volvo models' status.  Between the new Volvo S60, Volvo XC40, Volvo XC90, and much more, you will have the ride of a lifetime.
Innovative Technology
Discover Sensus, the connected services system that gives you full control over your Volvo model.
Sensus includes navigation, in-car entertainment, audio system, and much more.  With the touch screen interface, these systems are easy to use while staying focused on the roads of East Lansing. There is the latest voice control to make it easier to control your system while having both hands on the wheel.
You can integrate your smartphone to the Sensus systems using Apple CarPlay™ and Android Auto™.  You can access all your personal features on your smartphone, like contacts, messages, and favorite playlists.
Audio Systems
Music matters when you drive a luxurious car like the new Volvo S90 or Volvo XC60 SUV around the Dewitt area. You can enjoy your favorite songs through the Bowers & Wilkins audio system, or Harman Kardon system for a high-performance audio system.  There is an excellent balance between quality and value while listening with these systems.
All your senses will be enhanced when you have the best system inside your new Volvo.
Navigation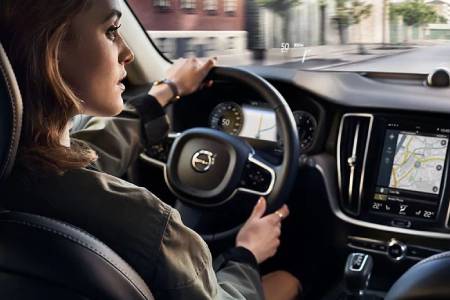 Sensus Navigation is the fully integrated, connected navigations system that helps you get from point A to point B.  There are helpful features included in this system, like Send to Car, which allows you to send destinations to your car from the Volvo On Call app.  This system also gives you the idea to travel to new places in your surrounding area. Once you find your new spot to go to, you will get easy to understand directions that will help you from turn to turn around Charlotte.
Volvo On Call App
Get ready to experience the technology that controls your Volvo from your phone.  Volvo On Call combines the mobile app, in-car Wi-Fi, and timesaving connected services to make your life easier in the Mason area.   You can use Volvo On Call for things like controlling your vehicle's temperature before you get in. You can program your car to heat up during the winter or cool down during the summer, so you sit in pure luxury once your vehicle is ready.
You can also send your destination to your Volvo's navigation system before leaving, so it is ready to go as soon as you step inside.  Planning your trip ahead of time is more efficient and responsible when trying to get there.
The Volvo On Call app also allows you to use many other functions from your smartphone like locking your Volvo, finding the current fuel range, the temperature outside your car, and discovering maintenance needs. You will always be on top of your car's information when you use this app.
Test Drive Your Favorite Volvo Today!
Our new lineup of Volvo models has completely new innovations that can't be missed. Experience what these new technologies feel like that make your driving experience so much better around Lansing.
We look forward to meeting you and answering any questions you may have about the advanced technologies.